Shipping and delivery questions
Verzendkosten en vragen/ Shipping fees and questions
Dutch Flower Lady verzendt bijna*-** al haar producten wereldwijd.
Als u een levend product van onze website wilt laten bezorgen buiten Nederland is het verstandig om eerst contact met ons op te nemen voordat u bestelt.
Hieronder een lijst van landen waar we uw bestellingen naartoe kunnen sturen:
Nederland & Belgie - Alle producten, All products
Alle producten behalve bloemen. All products except flowers:
Bulgarije – Cyprus - Denemarken - Duitsland - Estonia - Finland - Frankrijk - Griekenland - Hongarije - Ierland - Italie - Kroatie - Latvia - Lithuania - Luxemburg - Malta - Oostenrijk - Polen - Portugal - Roemenie - Slovenia - Slowakije - Spanje - Tsjechie - Zweden
All countries outside the EU
Please contact us before ordering, our shopping cart does not work in all countries to buy products but we do sell our products worldwide. We will add your country in our shoppingcart after we had contact.
Please check below on this page on how to make a payment as our shoppingcart is not all the time in your language but you can set it in all languages of the world.
If you would like to buy live plants and you live outside the EU you will need a Phyto-license to import the plants to your country, we supply these Phyto-license and ship once a month to all customers that bought products outside the EU to keep the costs of the Phyto-license as low as possible. If you are interested to buy one of our products and you live outside the EU please contact us with this email link:
Products that not need a phyto-license
If you see something on our website that you would like to buy such as dry materials and you are outside the EU please contact us we will make you a special button on our website so you can purchase the product with the correct shipping fees or we can send you a quote/bill by email so you can buy the products.
Cancellations on our end
** Dutch Flower Lady heeft het recht om bestellingen te annuleren als product niet verstuurd kan worden door weeromstandigheden etc. ** Dutch Flower Lady has the right to cancel orders for reasons such as bad weather etc.
Verzend temperaturen/Shipping Temperatures
Wij versturen levende planten niet als de nacht temperaturen lager zijn dan 6 graden Celsius en Dag temperaturen hoger zijn dan 25 Graden Celsius zijn. Planten gaan dit niet overleven. Wij versturen planten ook niet met een heat-pack omdat onze ervaring is dat de heat-pack niet lang genoeg werkt om uw plant warm te houden tijdens transport.
We do not send live plants when night temperatures are lower then 6 Celsius and day temperatures are higher then 25 Celsius. Live plants will not survive this.
We also do not ship with heat pack as our experience is that the heatpacks do not work as long as some of the shipping times.
How to make a payment on our shoppingcart in your Country/Language
In the shoppingcart (Example below) fill in your name, adress etc and choose Creditcard (Or Ideal if your country supports that)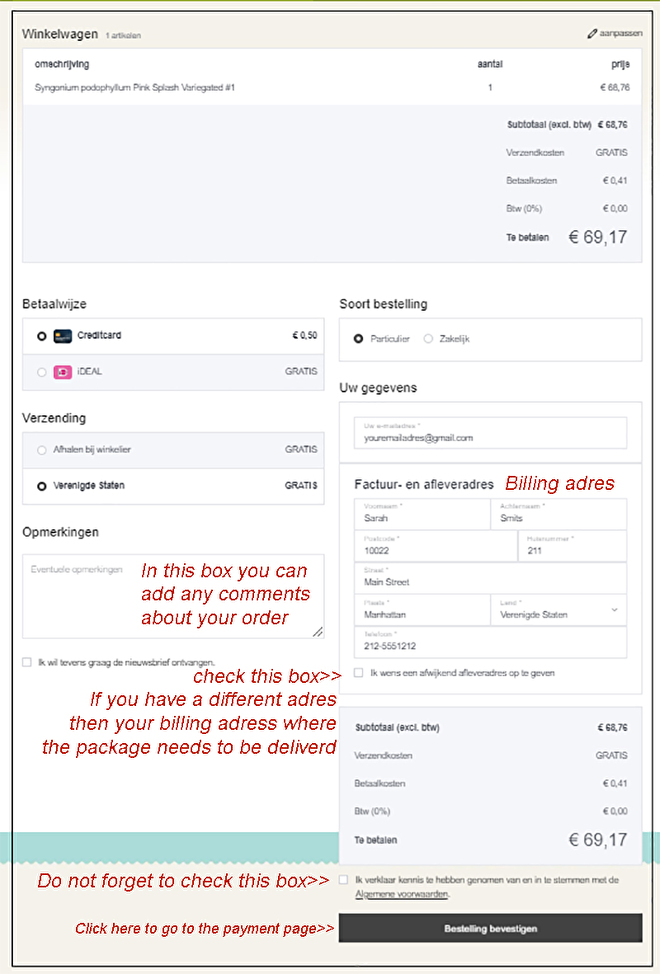 After you filled in the whole form and check the little box above the black banner and then click the black banner: "Bestelling Bevestigen"
Then you will be taken to the next page: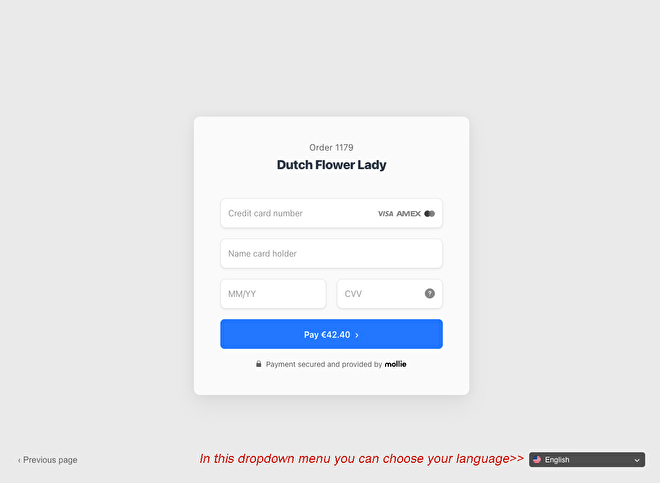 This is where you can fill out your creditcard information, you can set this page on any language in the world on the right bottom of the page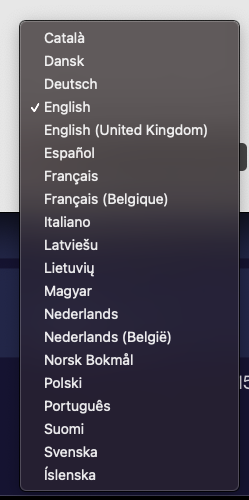 Click the blue button "Pay Now" and you are done!